This is a MMO SR idea I got! Credits for any person that's ideas are used by me! Go fight enemies in Co-Up or fight other players!
Class Selection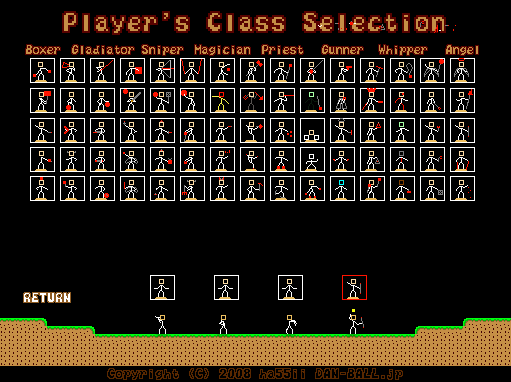 That's the class selection. Yup. Here are the classes used currently:
Boxer:Like in SR.
Clubber:Stronger then Boxer, but Slower.
Gladiator:Like in SR.
Defender:Defend the others players. Can do 1 damage, but that's it.
Sniper:Like in SR, but have no shots.
Dual Swordman:Like a Gladiator but with Two Sword.
Magician:Like in SR.
Lumberjack(1): Similar to a Clubber, but with the Gladiator.
Priest:Like in SR.
Lumberjack(2): Needs "Fuel", but have strong attack and low AGI.
Gunner:Like in SR.
Miner:A weaker gladiator thats can do splash damge with no Explosion Card.
Whipper:Like in SR.
Valkyrie:Low AGI, but powerful and can Fly.
Angel:Like in SR, but can now Fly.
Carpenter:Very Low AGI, but very strong attacks.
Footballer:Kick footballs.
Basketballer:Throw basketballs.
Baseballer:Throw baseballs high in the air.
Tennisplayer:Throw rapidly tennis balls.
Bomber:Throw Bombs.
Masker:Use Masks.
Ninja:Use Knifes and Shurikens.
Predator:Use Blowguns.
Witch:Use Brooms.
Wizard:Use Tomes.
Chef:Use food.
Cyborg:Have three different weapons.
Mechanic:Create machines.
Spearman:Use spears.
Agent:Hybrid class:Can hit enemies with it's weapon or blind them using light.
Boomranger:Stronger than Angel but cannot fly.
Crossbowist:Use Crossbows, that are just like Sniper "Shot".
Grenader:A faster but weaker Bomber.
Nurse:Do weak damage to enemies and can heal other players.
Musician(1):Use Guitars.
Professor:Throw pencils.
Dancer:Oddest class ever:Attack enemies with Disco Balls.
Elementer:Use "elements"
Disguiser: Use disguises.
Wildman: Use flowers, that have all at least a 1% chance to Poison.
Brewer:Use Mixtures.
Zombie:Infect enemies.
Lighter:Use Torches.
Musician(2):Use Rainsticks(Drops attacks on enemies)
Survivor:A stronger Boxer, but can miss attacks. Note that the level 7-8 weapons is shared with the Basher.
Demon:Ram on the enemies.
Basher:Bash enemies. Note that the level 7-8 weapons is shared with the Survivor.
Flyman:Throw pellets at enemies, can fly.
Partyman:Make enemies stop attacking, so that other players can attack them. Impossible to have four of them in a team.
Enchanter:Use Compo Items to enchant other players. Impossible to have more than three of them in a team.
Villager(Or Bait): Distract enemies, can attack weakly.
Karateman:Punches enemies.
Runner:Kick enemies.
Skeleton:Attack with it's bones.
Spy(Not Agent):Dual gunner.
Dropper:Drop anvils on enemies. Very low ranged and very slow, but do VERY high damage.
Robot:Attack with lasers.
Surviver(Do not confuse with Survivor):Attacks with broken machine parts.
Jumper:Jump very high.
Basherman(not Basher):Bash enemies with it's head.
Butcher:Weaker but faster Carpenter.
Bowler:Kicks a ball that hit any enemy touched.
Birdman:Uses Bamboo and fly.
Soldier:Pose mines on the ground.
Devil:Use forks.
King:Can use any base weapon, and other stickmen try to protect it.
Farmer:Use hoes.
Skater:Skates on enemies, damaging them.
Boxerrunner:Mix between a Boxer and a Runner.
Energyman:Makes a "aura" of attack around it.
Dual Priest:Priest with two staffs.
Tonga User: Use tongas.
Builder: Build blocks to protect the team.
Planter: Plants and grow carnivorous plants.
Ad blocker interference detected!
Wikia is a free-to-use site that makes money from advertising. We have a modified experience for viewers using ad blockers

Wikia is not accessible if you've made further modifications. Remove the custom ad blocker rule(s) and the page will load as expected.