Sam and I were, as usual, bored in the chat. Eventually, we decided to look for Japanese "Fan-Ball-esque" sites. Here are some pictures from a Japanese "Fan-Ball".

- Some updated graphics for the Opening Street enemies, it would seem.
- Presumably the OS boss.

- A Red Roundhead Dragon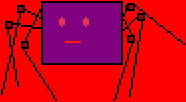 - A Purple Box Spider
- A White Skull Bat
Source: http://www21.atwiki.jp/stickrangerrpg/
If any of ye guys find other "Fan-Ball-esque" sites, be sure to let us know in the comments.
Ad blocker interference detected!
Wikia is a free-to-use site that makes money from advertising. We have a modified experience for viewers using ad blockers

Wikia is not accessible if you've made further modifications. Remove the custom ad blocker rule(s) and the page will load as expected.