Stub
This idea page is incomplete/has too few ideas.

You can help Fan-Ball Wiki by expanding it.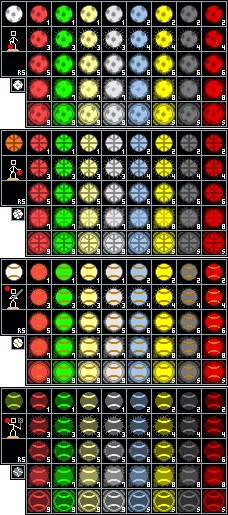 Tennis Balls are one of the four weapon types that a Baller can use.
Tennis Balls act similarly to Basketballs; it has medium range, and low AGI, but it is still higher than that of Basketballs. Tennis Balls also have a 25% chance of Critical hit of 125% AT.
Level 0-2 tennis balls are called Tennis Balls.
List of tennis balls
Icon
Weapon
LV
AT
AGI
Range
Type
MP
Bonus AT
Buy
Sell
Tennis Ball
Physical
100
12
Note: Starting weapon.
Fire Tennis Ball
1
Fire
?
?
250
31
Poison Tennis Ball
1
Poison
?
?
500
62
Spark Tennis Ball
1
Thunder
?
?
750
93
Ice Tennis Ball
1
Ice
?
?
1000
125
Freeze Tennis Ball
2
Freeze
?
?
1500
187
Thunder Tennis Ball
2
Thunder
?
?
2000
250
Iron Tennis Ball
2
Physical
2500
312
Flame Tennis Ball
2
Fire
?
?
3000
375
Fire
3
Fire
?
?
4000
500
Poison
3
Poison
?
?
4500
562
Spark
3
Thunder
?
?
5000
625
Ice
3
Ice
?
?
5500
687
Freeze
4
Freeze
?
?
6000
750
Thunder
4
Thunder
?
?
6500
812
Iron
4
Physical
7000
875
Flame
4
Fire
?
?
7500
937
Fire
5
Fire
?
?
8000
1000
Poison
5
Poison
?
?
8500
1062
Spark
5
Thunder
?
?
9000
1125
Ice
5
Ice
?
?
9500
1187
Freeze
6
Freeze
?
?
10000
1250
Thunder
6
Thunder
?
?
11000
1375
Iron
6
Physical
12000
1500
Flame
6
Fire
?
?
13000
1625
Fire
7
Fire
?
?
14000
1750
Poison
7
Poison
?
?
15000
1875
Spark
7
Thunder
?
?
16000
2000
Ice
7
Ice
?
?
17000
2125
Freeze
8
Freeze
?
?
18000
2250
Thunder
8
Thunder
?
?
19000
2375
Iron
8
Physical
20000
2500
Flame
8
Fire
?
?
21000
2625
Fire
9
Fire
?
?
22000
2750
Poison
9
Poison
?
?
23000
2875
Spark
9
Thunder
?
?
24000
3000
Ice
9
Ice
?
?
25000
3125
Freeze
S
Freeze
?
?
26000
3250
Thunder
S
Thunder
?
?
27000
3325
Iron
S
Physical
28000
3500
Flame
S
Fire
?
?
29000
3625
Canon Weapons
Fanon Weapons