After a long, mind-twisting and thought-provoking chat session, I have created a page to help clarify anything either I (ZX) or LAT might mention about Fan-Ball continuity you might not have heard about.
Universe Succession via S___B Sessions
The above is a "simple", visual guide to help describe the process of creation among the series of related universes. The chart can be described as follows:
The Beforus trolls had an unsuccessful session and scratched, forming the Alternia universe in which both canon Hivebent and Poxtenbent occur. The Hivebent session succeeds in creating Earth, where the B1 and B2 kids have thier respective sessions. On the Poxtenbent side, the session ends up a successful game, and the trolls create the Dan-Ball universe, however, Murtaw is convinced by a later Poxten (weird plot shmit) to scratch the universe, resetting it and creating an A3 universe.
Somehow from the bizarro Fan-Ball universe, BroLeadDuke, Hank's counterpart, manages to move to the A3 session that Hank left, effectively replacing him. He then leads the A3 session to create the Bizarro Dan-Ball universe, which in chain creates all of the other bizarro universes. The Dan-Ball universe session fails and scratches into the Fan-Ball universe, where our session takes place.
It is assumed that Hank forgot about the A3 session after exiting the game, otherwise he would likely not elect to play the game again in the Fan-Ball session.
As one would think, the first players intended to play in the Fan-Ball session were likely stickplayers and/or gridmasks, like thier pre-scratch counterparts. All of them except Lazro were killed by oblivion events. The rest of the current FB session players can be considered a "replacement" of sorts.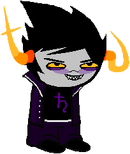 There were in fact 12 trolls created from the "Poxtenbent" Alternia's creation via scratch, as logic would dictate by there being 12 trolls in the scratched session. Two of the trolls were killed before the game could commence, and were replaced by Poxten and Murtaw for their game slots. Four others were cut off from the game when Poxten edited the game code to include only 8 players as opposed to 12. Had no alterations to the game roster been made, each troll in the game would have carried one of the planetary symbols. Those left out being those of the
Sun
,
Mercury
,
Earth
,
Mars
,
Saturn
, and
Uranus
.
Poxtenbent Descendants
| Troll | Descendant | Bizarro Troll | Bizarro Descendant |
| --- | --- | --- | --- |
| Ellona Nezhod | Afeita Nezhod | Unknown | Unknown |
| Armega Rodite | Isevel Rodite | Desdia Artemi | Unknown |
| Uskuro Mornen | Cordoz Mornen | Orchus Dispae | Unknown |
| Hassii Lethos | Demeta Lethos | Austra Regidi | Unknown |
| Poxten Crucex | Magnus Crucex | Sircut Kathes | Kaniff Kathes |
| Tarzuk Zeupit | Duiker Zeupit | Aureus Lucrum | Unknown |
| Murtaw Guidza | Hankvi Guidza | Karanz Lidraz | Codeam Lidraz |
| Liwiya Lanzer | Naijad Lanzer | Unknown | Unknown |
Other Things
Isevel Tooltip: replacez 's' with 'z', removez 'g' in wordz endin in '-ing', all letterz in expletivez are replaced with 'z'; alzo goez with random wordz depending on narcoleptic ztatuz, and finally 'o' and 't' are now 'o+' and '-)', rezpectively.
Ad blocker interference detected!
Wikia is a free-to-use site that makes money from advertising. We have a modified experience for viewers using ad blockers

Wikia is not accessible if you've made further modifications. Remove the custom ad blocker rule(s) and the page will load as expected.