Stub
This idea page is incomplete/has too few ideas.

You can help Fan-Ball Wiki by expanding it.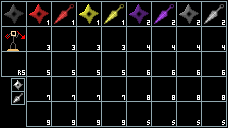 There are two weapon kinds that the Ninja uses. They are the Shurikens and the Kunais. Even though there is more than one kind of weapons, it is split as 2 of each per level.
Shurikens are typically fast (AGI normally 10-20), have low physical damage, higher magic damage, and are low at MP.
Kunais are slow (AGI normally 30-40), bigger damage, inferior magic damage, and pierces enemies (but not walls) at a certain chance for each enemy that gets caught in its range.
Note that attempting to put a Piercing Card compo into the any kunai will NOT improve the enemy piercing rate.
List of shurikens
Icon
Weapon
LV
AT
AGI
Range
Type
MP
Bonus AT
Buy
Sell
Creator
Shuriken
2-4
10-20
70
Physical
100
12
Francisco25
Note: Starting weapon.
Fire Shuriken
1
3-6
10-20
70
Fire
5
3-4
250
31
Francisco25
Note: If it touches an enemy upon full MP, it sparks a fire, like the Sniper's Fire Arrow 1.
Thunder Shuriken
1
4-8
10-20
70
Thunder
7
1-14
750
93
Francisco25
Note: When MP gets full, it attacks the enemy with 2 thunder bolts which spreads in different angles.
Poison Shuriken
2
5-10
10-20
70
Poison
9
2-2 (0.3s)
1500
187
Francisco25
Note: Creates a small poison cloud.
Iron Shuriken
2
10-20
10-20
70
Physical
2500
312
HGD
Note: Has a slight faster travel speed than the elemental shurikens.
Flame Shuriken
3
7-14
10-20
70
Burn
13
5-6 (Time 4s)
4000
500
Francisco25 (modified by HGD)
Note: Same as Fire Shuriken 1, but it will immediately make an enemy "burn" for 4 seconds taking damage each second.
Lightning Shuriken
3
8-16
10-20
70
Thunder
13
1-33
5000
625
Francisco25 (heavily modified by HGD)
Note: Same as Thunder Shuriken 1, but creates 4 thunder bolts.
Venom Shuriken
4
9-18
10-20
70
Poison
15
4-4 (0.4s)
6000
750
Francisco25 (modified by HGD)
Steel Shuriken
4
27-54
10-20
70
Physical
7000
875
HGD
Note: Has a greatly improved faster travel speed than the Iron Shuriken.
Molten Shuriken
5
11-22
10-20
70
Burn
19
10-12 (Time 4s)
8000
1000
Francisco25
List of kunais
Icon
Weapon
LV
AT
AGI
Range
Type
MP
Bonus AT
Pierce rate
Buy
Sell
Creator
Fire Kunai
1
5-10
30-40
70
Fire
10
2-3
10%
500
62
Francisco25
Note: Can pierce each enemy in a 10% chance. Creates a fire cloud at the enemy's position.
Thunder Kunai
1
5-15
30-40
70
Thunder
12
1-7
10%
1000
125
Francisco25
Note: Creates a bolt in a random direction.
Poison Kunai
2
10-15
30-40
70
Poison
14
1-1 (0.4s)
15%
2000
250
Francisco25
Note: Same as Poison Shuriken 2, but a slight weaker poison but can pierce.
Iron Kunai
2
20-30
30-40
70
Physical
30%
3000
375
HGD
Note: Improved piercing rate than other kunais.
Flare Kunai
3
15-20
30-40
70
Fire
18
3-4
20%
4500
562
Francisco25
Thunderstorm Kunai
3
15-25
30-40
70
Thunder
20
1-14
20%
5500
687
Francisco25
Note: Same as Thunder Kunai 1, but creates 2 thunder bolts.
Venom Kunai
4
20-25
30-40
70
Poison
22
2-2 (0.8s)
25%
6500
812
Francisco25
Steel Kunai
4
60-75
30-40
70
Physical
50%
7500
937
HGD
List of fanon shurikens and kunais
Icon
Weapon
LV
AT
AGI
Range
Type
MP
Bonus AT
Pierce rate
Creator
Freeze Kunai
2
10-20
30-40
70
Freeze
16
3-6 (Time 1s)
15%
Francisco25
Note: Same as Ice Shuriken 2, but instead of slowing down, it freezes and the icicle dropped is bigger.
Ice Shuriken
2
6-12
10-20
70
Ice
11
5-10 (Slow 25%)
-
Francisco25
Note: Drops an icicle at the enemies when MP gets full.
Fog Shuriken
4
4-8
10-15
20-50
Fog (Fire+Water)
?
?
-
Final508
Note: Combining types causes fog, When hit to an enemy, It has 2% chance to decrease enemy's accuracy by 15%. In the Final508 scale, It is recorded Scale 5 (uncommon).Citation needed
Frost Kunai
4
20-30
30-40
70
Freeze
24
5-10 (Time 1s)
25%
Francisco25
Frost Shuriken
4
10-20
10-20
70
Ice
17
10-15 (Slow 35%)
-
Francisco25
Spark Shuriken
S
40-50
30-40
500
Thunder
?
?
-
Francisco25
Canon Weapons
Fanon Weapons