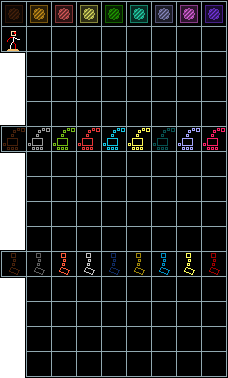 Legs are a fictional weapon kind of Stick Ranger, and is one of the three said kinds that the Cyborg class can utilize.
The Leg primarily increases movement speed, with some including another attack, which can knock back enemies by a high AT kick, albeit with a higher AGI than most arms. The range for the most are 15 for an offensive leg. Dis-equipping the leg will disable the Cyborg's privilege to move. Big enemies will have more difficulty to kick by dividing the kick value with the enemy's size multiplier (ex. The Tan Big Box Snake (9x large), being kicked with Force Leg 2 will kick it about 27 pixels away after rounding down).
(floor) 250 / 9 = 27

List of legs
Icon
Weapon
LV
AT
AGI
Range
Type
Bonus AT
Kick Distance
Speed
Buy
Sell
Leg
(Physical)
70%
100
12
Note: Starting weapon. Render's the walking speed of the Cyborg to be 70% of regular walking speed.
Iron Leg
1
15-15
80-90
15
Physical
50
90%
250
31
Note: Knocks one enemy 50 pixels away, whilst the enemy taking a small arc of air. Also decreases the cyborg's walking speed by 10%.
Blaze Leg
1
8-12
80-90
15
Fire
4-6 ×3 (Length 2.4s)
60
80%
500
62
Note: Creates 3 mines that travel similarly to the Fire Shot, with piercing the ground and all.
Light Leg
1
10-15
50-60
15
Physical
25
140%
750
93
Note: Increases movement speed by 40%, along with having relatively lower AGI than most legs.
Cold Leg
1
8-12
80-90
15
Ice
8-9 ×5 (SLOW 25%)
40
60%
1000
125
Note: Sends out 5 pellets in a similar fashion to the Ice Whip. It also decreases speed to near half.
Quake Leg
2
9-13
80-90
15
Physical
3-4 ×7
20
70%
2000
250
Note: Erupts 7 pellets into the air. It doesn't have a strong kick, though.
Charge Leg
2
+400%
120-135
(Physical)
400% for 0.5s
1500
187
Note: This leg will increase the Cyborg's speed 4 times while also providing a 4-time AT boost. The problem is that it makes the Cyborg to move in a series of spurts, with the movement lasts half a second for every 2.4 to 2.7 seconds.
Lightning Leg
2
8-12
80-90
15
Thunder
1-40
30
150%
2500
312
Note: Whilst increasing speed, it can also lance a lightning bolt towards the kicked enemy. If an enemy that got kicked died or missed, then about half a second after it traveled in the air, it changes direction towards the ground.
Force Leg
2
80-90
180-200
15
Physical
250
50%
3000
375
Note: Can send a strong kick to about half a screen, but halves movement speed.
Canon Weapons
Fanon Weapons
Ad blocker interference detected!
Wikia is a free-to-use site that makes money from advertising. We have a modified experience for viewers using ad blockers

Wikia is not accessible if you've made further modifications. Remove the custom ad blocker rule(s) and the page will load as expected.