Stub
This idea page is incomplete/has too few ideas.
The author can accept requests for idea expansion (unless otherwise mentioned in the article/comment section).
You can help Fan-Ball Wiki by expanding it.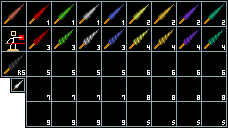 Lances
are weapons that the
Knight
uses. They can only be pointed horizontally; meaning it can only point left and right, shortening and lengthening according to perspective. Their range is usually the same as the Whipper's (40). All of the lances end with Lance.
List of lances
Icon
Weapon
LV
AT
AGI
Range
Type
MP
Bonus AT
Buy
Sell
Creator
Lance
2-4
80-90
40
Physical
100
12
HGD
Note: Starting weapon.
Fire Lance
1
2-6
80-90
40
Fire
8
1-3
250
31
HGD
Note: Drops a single flame that lasts for 2 seconds upon full MP.
Poison Lance
1
2-6
80-90
40
Poison
16
2-2 (0.4s)
500
62
HGD
Note: Creates a stretched cloud that affect the entire lance upon full MP.
Tin Lance
1
3-4
50-60
30
Physical
750
93
HGD
Note: A faster and lighter lance. Has lower range akin to normal swords.
Ice Lance
1
3-6
80-90
40
Ice
32
0-0 (SLOW 15%)
1000
125
HGD
Note: Launches a big two-arrow that can pierce through enemies, slowing them.
Thunder Lance
2
4-8
80-90
40
Thunder
32
1-14
1500
187
HGD
Note: Fires out 14 bolts akin to the Sniper's "shot" weapons.
Dense Lance
2
12-16
105-130
40
Physical
2000
250
HGD
Note: Has higher AT and AGI than most lances.
Plague Lance
2
4-8
80-90
40
Poison
60
0-1 (0.1s)
2500
312
HGD
Note: Leaves a trail of 40 pellets behind in the air, but has a chance that it could deal no damage at all. An Emerald is vital.
Long Lance
2
8-10
80-90
50
Physical
3000
375
HGD
Dark Lance
5
24-64
80-90
40
Dark
666
1-6666
0.02 drain one
8500/85000
(depends on no. of compo slots)
1062
HGD
Note: Resort weapon. Creates a big dark arrow wave () that only affects one enemy, while also repels from the target at ~40, making this lance slightly unreliable, along with its high MP. That enemy however, will receive huge damage and only the Knight will recover health if done right.
List of fanon lances
Icon
Weapon
LV
AT
AGI
Range
Type
MP
Bonus AT
Creator
Lance
1-3
10-15
50
Physical
?
Note: This is the first weapon of Knights; they look like swords, but are longer, faster, weaker and have a spike at the front. These can use the long sword cards to get a longer lance.
Hot Lance
1
2-5
10-15
50
Fire
10
2-6
?
Note: When MP gets full, various heat attacks appear from the lance until 2 seconds pass. A garnet is good. Its spike at the front is red because is very hot.
Shock Lance
1
3-7
10-15
50
Thunder
15
1-2
?
Note: When MP gets full, the lance becomes lightning and shocking the enemies for a second. Its spike front is yellow because it is full of electricity.
Cold Lance
1
4-9
10-15
50
Ice
15
0-0 (SLOW 50%)
?
Note: Similar to the Hot Lance, but it makes blue clouds and has the Ice type. Its spike at the front is blue because is very cold.
Envenomed Lance
1
20-20
10-15
50
Poison
50
2-3 (3s)
?
Note: Also similar to the Hot Lance, but it makes green clouds and has the Poison type. Its spike at the front is green because it is envenomed.
Long Lance
2
7-15
10-15
70
Physical
?
Note: A longer and stronger lance. With a long sword card, it's as large as a priest's staff. This Lance is darker and has a larger spike at the top.
Thorn Lance
8
20-25
15-20
40
Physical
?
?
?
Note: Releases 40 needles.
Canon Weapons
Fanon Weapons
Ad blocker interference detected!
Wikia is a free-to-use site that makes money from advertising. We have a modified experience for viewers using ad blockers

Wikia is not accessible if you've made further modifications. Remove the custom ad blocker rule(s) and the page will load as expected.