Canon Weapons
Fanon Weapons
A weapon in Stick Ranger is an item used by characters to attack, which in turn can progress through the game. [Read more]
Notes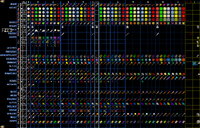 ALL weapons made here are fan-made.
Some weapons have level ? as the creator don't put a level on it.
Some weapons have level (?) because it is strange and is impossible to know the level.
Some weapons don't have an number because they are starting weapons.
Some weapons have the level S, which stands for special, but also indicates a high-end level of the weapon.
Lvl S is the highest level of the standard weapon chart. Everything above lvl S is an extension.

The rankings above lvl S are as follows: S-S9-SS, X-X9-XS-XX, D-D9-DS-DX-DD, L-L9-LS-LX-LD-LL.
Levels H, C, G, and T are reserved for unique weapons obtained from chests.
Some weapons have special skills, which might range from abilities not found in other weapons to behavior and usage against enemies.

There is also a possibility to use Composite Weapons, weapons that can be wielded by two classes or more.
Below is the list of all weapon kinds this wiki covers. If you'd like to create a new weapon kind for a new class, either sift through the SR Class Archive, or create the article yourself, which the admins will coordinate the data from the article and register into the table below.
Note: There could be some inconsistencies with the "ratings" system, which can briefly be seen when hovered over the light blue text.
See also
Ad blocker interference detected!
Wikia is a free-to-use site that makes money from advertising. We have a modified experience for viewers using ad blockers

Wikia is not accessible if you've made further modifications. Remove the custom ad blocker rule(s) and the page will load as expected.