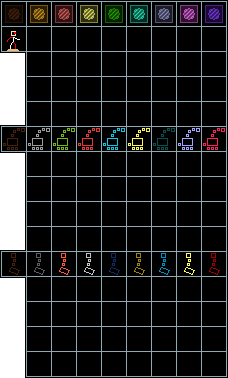 Eyes are a fictional weapon kind of Stick Ranger, and is one of the three said kinds that the Cyborg class can utilize.
The Eye is mostly a supportive item that can provide with various things such as range increase, behavior towards allies/enemies, a special "compo item", and even provide laser/plasma beams as an attack. For offensive eyes, the range is fixed at 50, but AGI have very wide values (where min AGI is 1).
List of eyes
Icon
Weapon
LV
AT
AGI
Range
Type
Bonus AT
Buy
Sell
Eye
+0%
(Physical)
100
12
Note: Starting weapon. Render's the range of the Cyborg to be 100% of the range of an arm.
Eye of Phase
1
-15%
(Physical)
250
31
Note: Equivalent of the Quick's Card compo item.
Flare Lens
1
3-4
1-199
50
Fire
Length 2s
500
62
Note: Creates a fire cloud which acts like Fire Rise 3 and has the same fire length, but only has 1 bullet as opposed to 5.
Eye of Fury
1
+150%
(Physical)
750
93
Note: Similar to the Berserk's Card compo item, but does not "decrease" DF and instead its attacks can affect characters as well.
Sharp Eye
1
+50%
(Physical)
1000
125
Note: Similar to the Catapult's Card compo item.
Eye of Focus
2
+1%
200-200
(Physical)
1500
187
Note: Increases AT by 1% every 4 seconds. This effect stacks up AT and resets when the cyborg killed an enemy, there is no enemy on screen, or when the cyborg passes the Next sign.
Freeze Beam
2
4-4
1-299
50
Freeze
Freeze time 0.8s
2000
250
Note: Fires a fast-speed laser that freezes an enemy.
Eye of Heal
2
"-1"
50-50
50
(Physical)
2500
312
Note: The "AT -1" technically means that the Cyborg will be able to "heal" 1 LP a second. This affects characters and enemies in its range.
Pseudo Eye
2
(Physical)
3000
375
Note: While it has no attacks on its own, it can act as a "book". When a cyborg attacks a certain enemy, that certain enemy's info will be showed, like it would on a bought book. It is only limited to one enemy; by hitting another enemy, it will shift the info perspective on the other enemy.
Canon Weapons
Fanon Weapons