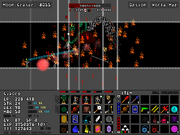 See former discussion about this class. Not to be confused for the Robot class.
The Cyborg is a fictional class for Stick Ranger whom utilizes three weapons at once, and cannot use compo items. The weapon types are:
Eye Graft (or just Eye)
Mechanical Arm (or just Arm)
Mechanical Leg (or just Leg)
The Cyborg is considered to be a Hybrid (Melee&Ranged) class.
Stats
| Stat | effect per SP invested | LP |
| --- | --- | --- |
| LP | no effect | +7 |
| STR | Physical DF +1/6 | +3 |
| DEX | Physical AT +1/3 | +2 |
| MAG | MP +1/hit | +2 |
Weapons
Trivia
The idea (specifically the Cyborg's Arm) seems to be a loose reference to one of Ludicrine's earliest doodles of the Nazca Gargantuan Uberboss (can be seen here).
It is by far the only class to utilize three weapons at once.
Credits
HankGuideDude - Class creation
Ludicrine - Inspiration (as well as the Resort weapon set idea)
Ad blocker interference detected!
Wikia is a free-to-use site that makes money from advertising. We have a modified experience for viewers using ad blockers

Wikia is not accessible if you've made further modifications. Remove the custom ad blocker rule(s) and the page will load as expected.