Stub
This idea page is incomplete/has too few ideas.

You can help Fan-Ball Wiki by expanding it.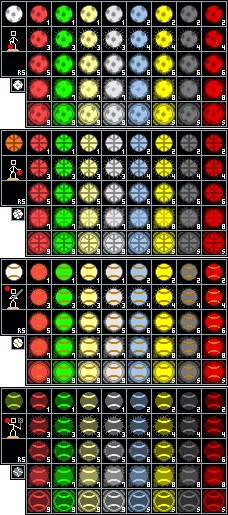 Basketballs are one of the four weapon types that a Baller can use.
Basketballs are thrown in a high arc, and are able to bounce, disappears in 10 seconds after bounce, if it didn't hit an enemy. Basketballs have an low AGI but have low range. Basketballs uses an Medium AT, Footballs have also an Medium AT, But that of a Football is stronger.
Level 0-2 basketballs are just called Basketballs.
List of basketballs
Icon
Weapon
LV
AT
AGI
Range
Type
MP
Bonus AT
Buy
Sell
Basketball
1-3
40-45
50
Physical
100
12
Note: Starting Weapon
Fire Basketball
1
5-8
35-40
60
Fire
?
?
250
31
Poison Basketball
1
3-5
40-45
55
Poison
?
?
500
62
Spark Basketball
1
4-6
30-35
60
Thunder
?
?
750
93
Ice Basketball
1
5-8
40-45
50
Ice
?
?
1000
125
Freeze Basketball
2
5-8
35-40
55
Freeze
?
?
1500
187
Thunder Basketball
2
7-10
25-35
65
Thunder
?
?
2000
250
Iron Basketball
2
6-9
45-50
50
Physical
2500
312
Flame Basketball
2
6-9
25-30
65
Fire
?
?
3000
375
Fire
3
Fire
?
?
4000
500
Poison
3
Poison
?
?
4500
562
Spark
3
Thunder
?
?
5000
625
Ice
3
Ice
?
?
5500
687
Freeze
4
Freeze
?
?
6000
750
Thunder
4
Thunder
?
?
6500
812
Iron
4
Physical
7000
875
Flame
4
Fire
?
?
7500
937
Fire
5
Fire
?
?
8000
1000
Poison
5
Poison
?
?
8500
1062
Spark
5
Thunder
?
?
9000
1125
Ice
5
Ice
?
?
9500
1187
Freeze
6
Freeze
?
?
10000
1250
Thunder
6
Thunder
?
?
11000
1375
Iron
6
Physical
12000
1500
Flame
6
Fire
?
?
13000
1625
Fire
7
Fire
?
?
14000
1750
Poison
7
Poison
?
?
15000
1875
Spark
7
Thunder
?
?
16000
2000
Ice
7
Ice
?
?
17000
2125
Freeze
8
Freeze
?
?
18000
2250
Thunder
8
Thunder
?
?
19000
2375
Iron
8
Physical
20000
2500
Flame
8
Fire
?
?
21000
2625
Fire
9
Fire
?
?
22000
2750
Poison
9
Poison
?
?
23000
2875
Spark
9
Thunder
?
?
24000
3000
Ice
9
Ice
?
?
25000
3125
Freeze
S
Freeze
?
?
26000
3250
Thunder
S
Thunder
?
?
27000
3325
Iron
S
Physical
28000
3500
Flame
S
Fire
?
?
29000
3625
Canon Weapons
Fanon Weapons