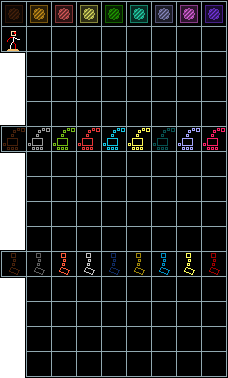 Arms are a fictional weapon kind of Stick Ranger, and is one of the three said kinds that the Cyborg class can utilize.
In range of attack, a line of squares (5px width/height) shoots out of its arm as the appear and disappear in a way similar to the Angel's "yo-yo" attack, usually in a rate of 5 sq/s, whilst cannot pass through terrain nor enemies (there are a few exceptions to this, however). All arms are used as offensive weapons, and the Cyborg will not be able to attack (either the arm after AGI has passed, or with its leg) until all the squares have returned. The average Range is 40. If the arm is unequipped, it will NOT hinder the Cyborg's AI. Due to the momentum in sending/getting the arm, the cyborg can still be dragged, but the line of squares will sparse out and dense in the further and near the cyborg is dragged from the source of the shooting spot, respectively.
List of arms
Icon
Weapon
LV
AT
AGI
Range
Type
MP
Bonus AT
Buy
Sell
Arm
4-6
45-60
40
Physical
100
12
Note: Starting weapon.
Steel Arm
1
10-16
45-60
40
Physical
250
31
Poison Arm
1
5-10
45-60
40
Poison
40
1-2 ×sq (0.5s)
500
62
Note: Every square the cyborg shot, will release a single poison cloud each in the direction the arm shot.
Fire Arm
1
5-10
45-60
40
Fire
40
2-3 ×sq (Length 1.5s)
750
93
Note: Every square the cyborg shot, will send out a fire traveling in the direction the arm shot.
Flash Arm
1
2-3
45-60
40
Physical
1000
125
Note: The squares will appear and disappear in a quicker rate (about 15 sq/s rather than 5 sq/s).
Shock Arm
2
5-10
45-60
40
Thunder
80
1-33 ×(variable)
1500
187
Note: After the magic attack has been charged, on the next attack, the cyborg will emit shock attacks on every enemy in the vicinity of 10 pixels or less.
Long Arm
2
8-12
45-60
90
Physical
2000
250
Freeze Arm
2
5-10
45-60
40
Freeze
110
0-0 ×2/sq (Freeze 0.2s)
2500
312
Note: Each square that is shot will emit two flakes with short delay each traveling in the direction the arm shot.
Buster Arm
2
10-16
45-60
40
Physical
3000
375
Note: Just like the Steel Arm, but can pass through enemies. The squares will only damage whether appearing or disappearing.
Canon Weapons
Fanon Weapons
Ad blocker interference detected!
Wikia is a free-to-use site that makes money from advertising. We have a modified experience for viewers using ad blockers

Wikia is not accessible if you've made further modifications. Remove the custom ad blocker rule(s) and the page will load as expected.