Here, we'll provide family trees of your pets, so that you may find out who the ancestors are.
Pets being investigated
Owner: Poisonshot
Result:

Top row: Arrexa
Second row: Spellunk, Atrox
Third row: Kirnea, Elox, Omoax
Fourth row: Exospike
Picture:
Name: Vausys
Owner: Ludicrine
Note:

NYSiE is it's decendent.
Result: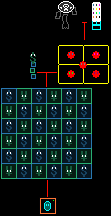 Top row:Blantacreep, the thousands years Cactus, Panelsnow
Second row:Bluegreen Cash, Genderpanel
Third row:Vausys
Fourth row:NYSiE
Name: Forelly
Owner: HankGuideDude
Result:

Top row: Puraimari
Second row: Betriam, Aka, Ao
Third row: Forelly, Duotrope
Fourth row: Gemini
Picture:

Name: Jango
Owner: Jumbods64
Result:

Top row: Udider, Phantasm
Second row: Danel, Enota
Third row: Acopen, Tetra
Fourth row: Jangala, Jango, Atlas
Fifth row: Jeopardy, Cutter
Ad blocker interference detected!
Wikia is a free-to-use site that makes money from advertising. We have a modified experience for viewers using ad blockers

Wikia is not accessible if you've made further modifications. Remove the custom ad blocker rule(s) and the page will load as expected.